Facebook Page Name Change Announcement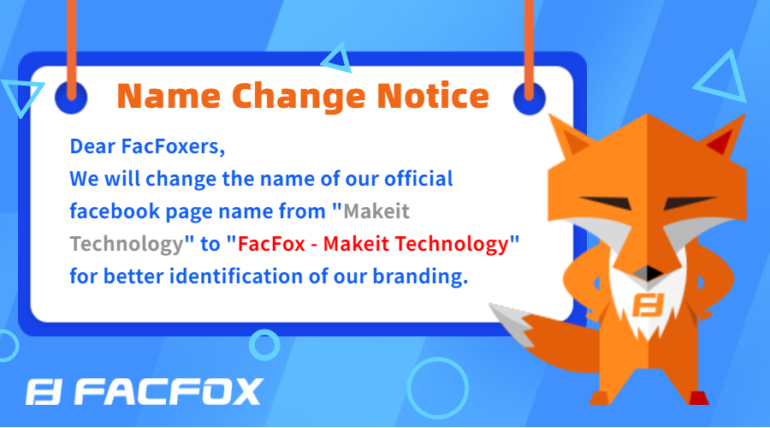 Dear FacFoxers,
We are going to change our official Facebook page name from "Makeit Technology" to "FacFox – Makeit Technology" in the future. Makeit Technology was our company alias, but it's not a good representation of our service and platform, so for a better branding and unified identification purpose, we hereby announce the name change.
We have filed request for name change to facebook group, and in the future you can find our page by simply search "FacFox" in facebook. We are dedicated to provide stable, trustworthy on-demand manufacturing service as always. Feel free to reach us via facebook, instagram, email and any channel we put on our website 🥰
You can like our facebook page on the right by clicking the 👍 button, so you'll get our newest deals, discounts and event notification lively!
Take care and stay safe!
FacFox Team
[fts_facebook type=page id=466480917048266 access_token=EAAP9hArvboQBADZAZCG0MLf6y5ZA2CDk9gWTVq9PgYB8LUmxOFjdGywmPg5pNnPgZAxtLwX3lovtiQ7oZAsaY5ZAFLcg5I8WoDVDN1tErCOOrBnugM6EVbsVFE5fxnUDuKz714m6sLoj0WizOFEuQT96ZAZBPXCeezt9wiFAmZBLvokS3PLAdhphR posts=12 height=450px description=yes posts_displayed=page_only]