In the wake of the high-profile merger between Ultimaker and Makerbot, another pioneering filament extrusion 3D printer manufacturer, Czech Republic-based Prusa Research is making moves. The company founded by Josef Prusa has acquired reseller Printed Solid Inc. to expand direct sales and support into the USA.
Printed Solid has been a reseller and manufacturer in the 3D printing industry for almost 8 years at the time of this announcement and will be able to add Original Prusa products, sales, support and training directly to USA-based customers to its already impressive reseller catalog.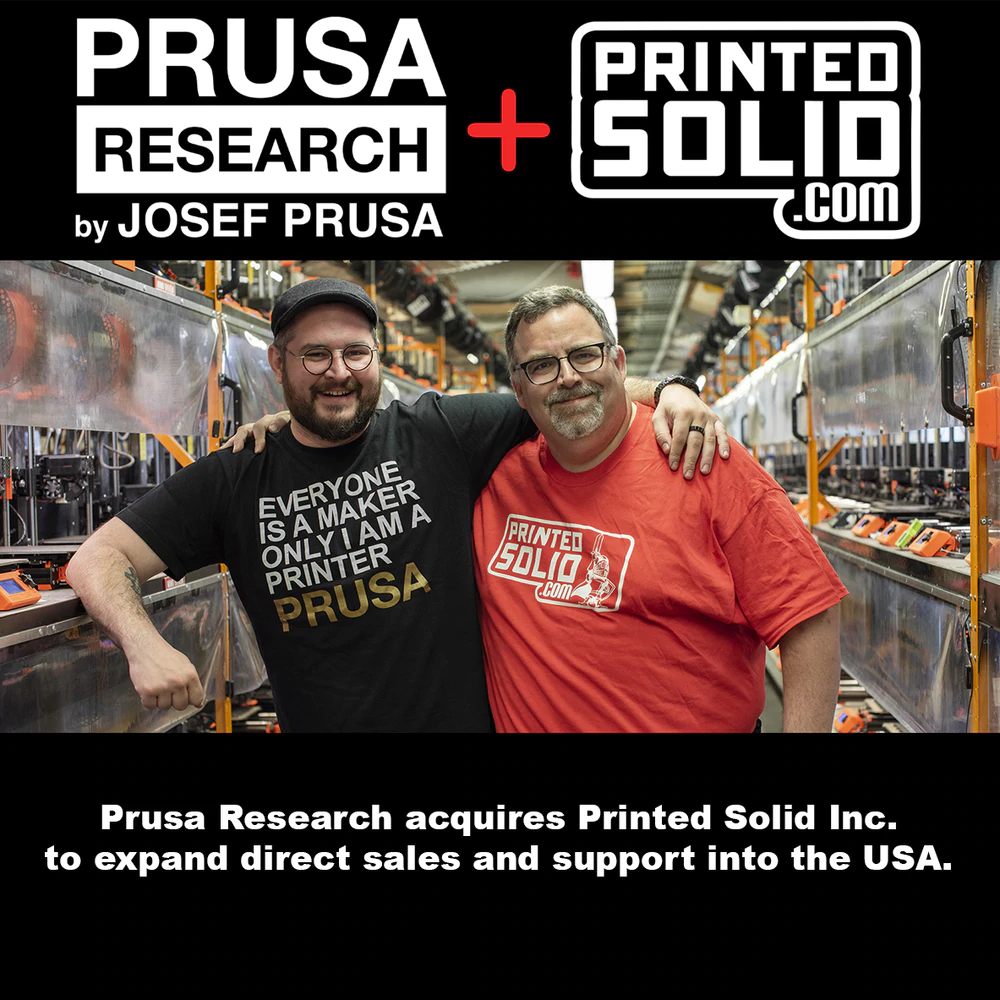 Currently Printed Solid Inc. is the exclusive sales, support and training reseller for Original Prusa products to educational, government and enterprise customers and will expand on this through the rest of 2022. With planned operational and staff expansions in 2022 customers can expect to see more Original Prusa products not only offered for enterprise, government and educational customers but direct to consumer sales, support and training as well.
Manufacturing on Demand
Maximize the freedom of your product design, get your ideal realized with 3D printing and other cutting-edge technologies!
By Q4 of 2022 Printed Solid Inc. will acquire more warehousing, operational space and staffing dedicated to upholding and improving the already industry-recognized quality and reputation of Prusa Research and offering USA-based in-warranty and out-of-warranty repairs and services including parts fulfillment for Prusa Research. Helping to lessen the burden of international shipping and shortening response times for customer repairs and replacements.
Enterprise, education and government customers will have a team of highly trained 3D printing experts based in the USA to help deploy enterprise-level Original Prusa hardware with training and support in larger environments.
David Randolph will remain CEO of Printed Solid Incorporated and the company will continue to maintain its own internal brand of Jessie FDM filaments and safety enclosures as well as reselling 3rd party products to all sectors of the 3D printing industry in addition to being the exclusive USA reseller and service provider of Original Prusa hardware.
You might also like:

Phil DeSimone and Craig Carlson appointed to Carbon's Office of the CEO: "As I take a step aside and into the position as Chair of the Board, I am prepared to provide guidance on the company's growth strategy alongside the current Board members," stated Kullman. "I have full confidence that Phil and Craig are the right leaders to drive innovation, ensure customer success, and reinforce our company culture. They've collaborated for years on building the business and bring complementary strengths to lead the company through continued growth."
* This article is reprinted from 3D Printing Media Network. If you are involved in infringement, please contact us to delete it.
Author: VoxelMatters