Chinese drug 3D printing firm Triastek has announced a partnership with global pharmaceuticals company Eli Lilly to research and develop 3D printed oral drugs for the gastrointestinal tract.
Specifically, the project will leverage Triastek's proprietary Melt Extrusion Deposition (MED) technology to fabricate programmed drug release profiles to target specific areas of the human digestive system.
Dr. Senping Cheng, founder and CEO of Triastek, said, "The collaboration between Triastek and Lilly is a great example of applying MED® technology for improving the oral delivery of drugs. We envision that the MED® technology of Triastek can be used to solve the challenges in formulations leading to the development of clinically valuable products for our global partners."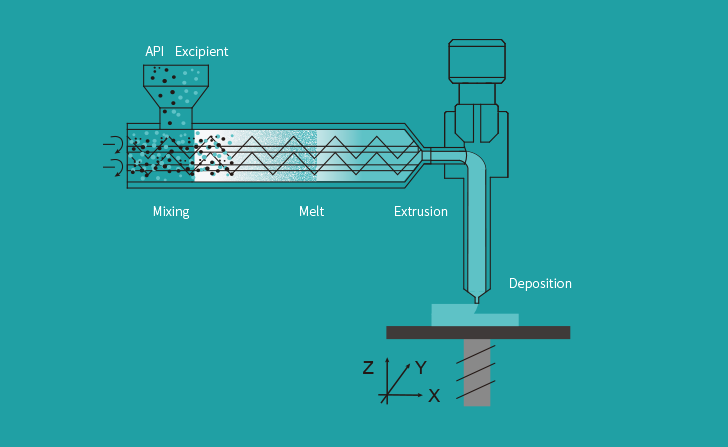 Triastek's MED 3D printing technology. Image via Triastek.
Triastek and MED 3D printing
Founded in 2015, Triastek has based its entire business around 3D printed solid dosage form drugs. The company has already completed six rounds of financing to date, with investors such as Tasly Holding Group, Morningside Venture Capital, Volcanics Venture, Dalton Venture, Yunqi Partners, Matrix Partners China, and more.
The firm's MED 3D printing technology provides an end-to-end method of manufacturing a wide variety of novel dosage form designs. The extrusion-based process works by mixing, melting, and depositing active ingredients into complex geometric structures that would otherwise be impossible to produce. As a result, the process allows for drug release control at a level that that's simply not possible with conventional tablet production techniques.
The firm has also integrated real-time Process Analytical Technology (PAT) into the MED system that can continually monitor the 3D printing process to ensure product quality and make regulatory monitoring more convenient.
Triastek's T19 and T20 products have already received Investigational New Drug (IND) clearance from the FDA. T19 was developed in-house and is designed to treat rheumatoid arthritis, an autoimmune disease where the body's immune system attacks the cells that line joints by mistake, making them stiff and swollen.
The firm also boasts 158 patent applications related to 3D printed pharmaceuticals, with patent coverage in several countries around the world.
Manufacturing on Demand
Order custom parts through our online manufacturing network. Low cost, fast delivery. Upload your design for free quotes now!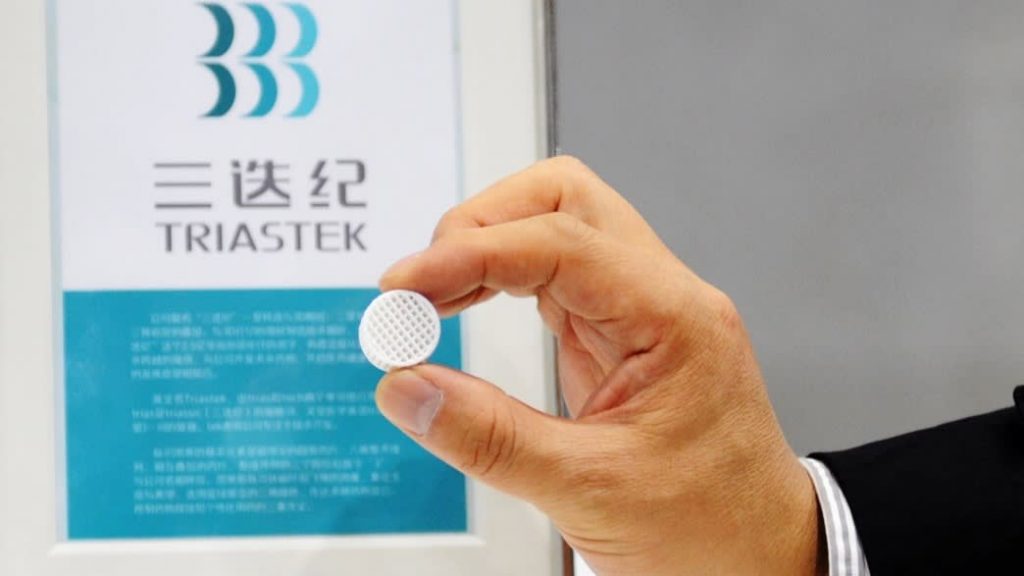 Triastek gained IND clearance from the FDA for its T19 drug for rheumatoid arthritis. Photo via Triastek.
Built on collaborative research
To date, Triastek has established a whole host of collaborations with multinational pharmaceutical companies to further advance its product formulations. The latest of these, the Eli Lilly partnership, will comprise a two-step program.
Firstly, the companies will take a deep dive into excipient properties and process parameters to conduct an in-depth study of how these factors impact drug stability. This study will cover everything from formulation development to 3D printing and the final drug release stage.
Moving forward, the partners will then identify unique 3D printable structures to design novel dosage forms. These structures will be programmed to release drugs into targetted parts of the intestines, all in a bid to improve the bioavailability of the 3D printed drugs when administered orally.
Triastek certainly isn't the only player in the 3D printed pharmaceuticals space. Earlier this year, the venture capital arm of German chemicals firm Evonik invested in Nevada-based 3D printed pharmaceutical firm Laxxon Medical to bring the mass production of 3D printed tablets closer to reality. The firms are partnering to fabricate novel multi-drug tablets en-masse using Laxxon's patented 3D screen printing technology and Evonik's specialized polymer materials.
Elsewhere, Pharma technology developer CurifyLabs recently partnered with food printing firm Natural Machines with the aim of bringing a new low-cost drug 3D printer to market. Working together, the companies say they've developed a "pharma-compliant' system that offers a more efficient, automated alternative to the compounding process used to create personalized medicines.
You might also like:

Dentists develop unique 2-in-1 3D printed toothbrush handle for people with dexterity impairments: Using putty impressions of users' hands, the dentists have come up with a way of modeling and 3D printing custom 2-in-1 toothbrushes and interproximal brushes from PLA. According to the team, the resulting implements are not only durable and water-resistant, but they make it easier to brush teeth, in a way that could raise the self-esteem of handicapped users by reducing their dependency on others.
* This article is reprinted from 3D Printing Industry. If you are involved in infringement, please contact us to delete it.
Author: Kubi Sertoglu