Dyze Design knows the ins and outs of extrusion-based 3D printing better than most. The Canadian company has nearly a decade of experience manufacturing high-performance extrusion systems and other accessories for professional and industrial 3D printers, and provides its products to over 25 3D printer brands, including Roboze, Aon3D, Trideo, Blackbelt, and Cincinnati. The depth of its knowledge also means that Dyze Design understands the pain points of 3D printing and is uniquely positioned to solve them. It's upcoming product, Orthus, addresses an all too common issue in FFF 3D printing: filament monitoring.
Orthus is an ultra-precise filament monitoring sensor that is capable of instantly detecting not only when a filament spool runs out but also when there is a jam in the 3D printer extruder. Many filament detectors, by contrast, are only designed to detect runout. By Dyze Design's own admission, its new product goes above and beyond even its existing filament sensor, the Sentinel, which was launched in 2016 on Kickstarter and was one of the first filament sensors on the market.
The Sentinel uses optical sensing technology to detect when a spool of filament is about to runout and automatically pauses the 3D printing process to avoid any problems. This gives the user time to replace the filament spool and seamlessly restart the print. As Dyze Design explains it, Orthus uses a wholly different technology.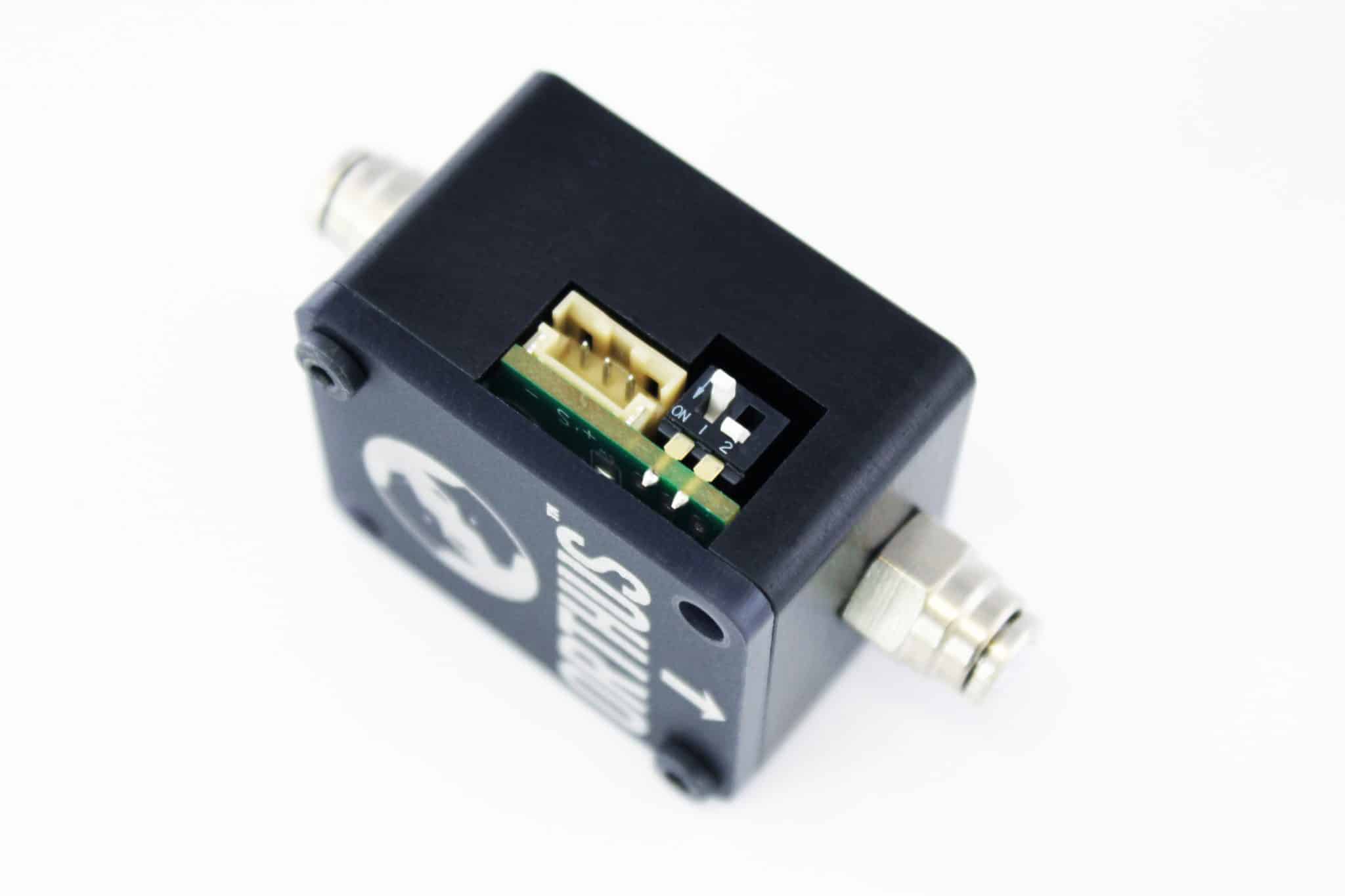 Orthus gives users a choice of 9µm, 148µm or 1,229 mm
"Having a bit of history with filament detectors, we learned that hassle-free printing also is not only a matter of detecting a runout, it's also important to catch any problems in the extruder, like a jam or clog," explains Philippe Carrier, CTO at Dyze Design. "Orthus is not some kind of upgraded version of the Sentinel; it's a brand new technology that detects both filament runout and jams. And the magic with Orthus is that detection is instantaneous. There's no buffer or delays."
Moreover, many filament sensors on the market are limited in terms of the filaments they are compatible with. For example, many optical-based devices struggle with transparent or filled filaments. Orthus has greater compatibility and can be used with any thermoplastic filament available today, including PLA, ABS, TPU, TPE, PVA, PC, PETG, NYLON, PEEK, PEI and many more. It also comes in different sizes for different filament diameters (1.75 mm or 2.85 mm).
Manufacturing on Demand
Order custom parts through our online manufacturing network. Low cost, fast delivery. Upload your design for free quotes now!
"The polymer industry is moving really fast," Carrier adds. "More and more new filament types are available each week and we realized that optical sensing technology is not able to keep up. And it's hard to maintain. It's the problem we started seeing with our own filament sensor, the Sentinel.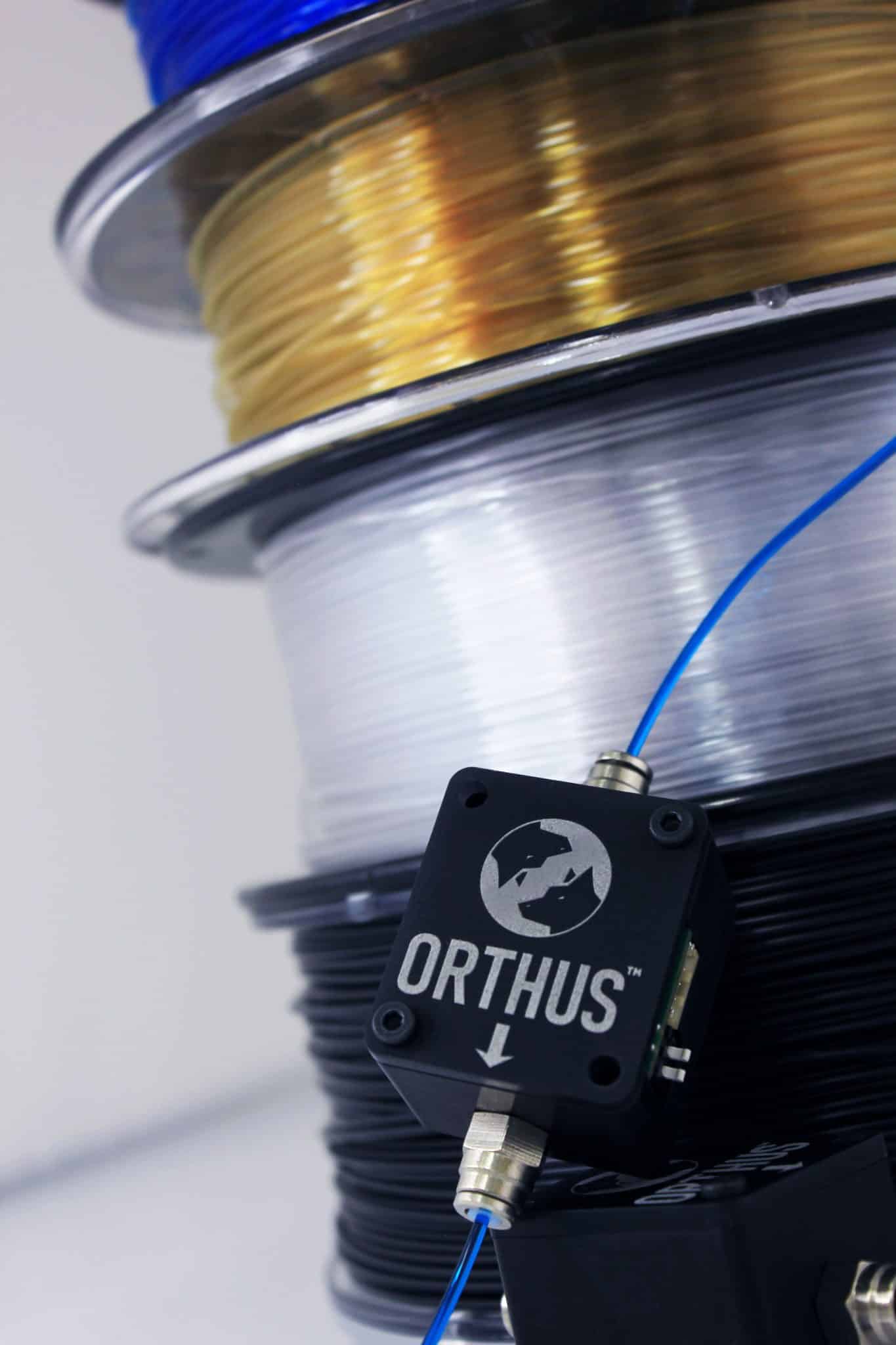 The filament sensor is compatible with all filaments.
"Being an OEM for more than 25 3D printer manufacturers and having a lot of customers in industrial fields, it was really important for us to design a product that would not only work with actual but also upcoming polymers," he continues. "Orthus provides instant detection for all filaments: flexible, transparent, reinforced or filled filaments, you name it. And we know for sure that it won't be obsolete in a year or two."
Another notable feature of the Orthus filament sensor is its high resolution. Described as "one of the most precise filament detectors on the market", Orthus has a standard resolution of 9µm, but also gives users a choice of 9µm, 148µm or 1,229 mm thanks to a handy switch on the sensor's side. The resolution controls the filament sensor's sensitivity and can be changed depending on the type of filament.
Designed for easy installation, the new filament sensor can be mounted onto any 3D printer frame easily and requires only two screws. In terms of integration, Orthus is compatible with all open source firmware, such as RepRap, Repetier, and Marlin, among others.
Dyze Design is preparing to launch its newest product on October 8, 2022. From that date, Orthus can be purchased via the company's website for CAD $125 (about USD $93).
You might also like:

The mycusini 2.0 enables bespoke 3D printed chocolate-making:
* This article is reprinted from 3D Printing Media Network. If you are involved in infringement, please contact us to delete it.
Author: Tess Boissonneault