SprintRay has released SprintRay Crown by BEGO – a 3D printing resin developed to help improve the quality, and accessibility, of customized restorative care in digital dentistry. The SprintRay Crown by BEGO hybrid material was developed through the collaboration of the two companies – SprintRay, a dental technology company building end-to-end 3D printing ecosystems, offering manufacturing solutions such as dental 3D printers, 3D printing software, curing technology, washing systems, and materials, and BEGO, a leading specialist in the field of prosthodontics and implant dentistry.
The new material allows dental professionals to 3D print crowns and conduct other restorations, in-house, for a fraction of the cost of other methods. The material costs only $2, per crown, and takes less than 60 minutes to print.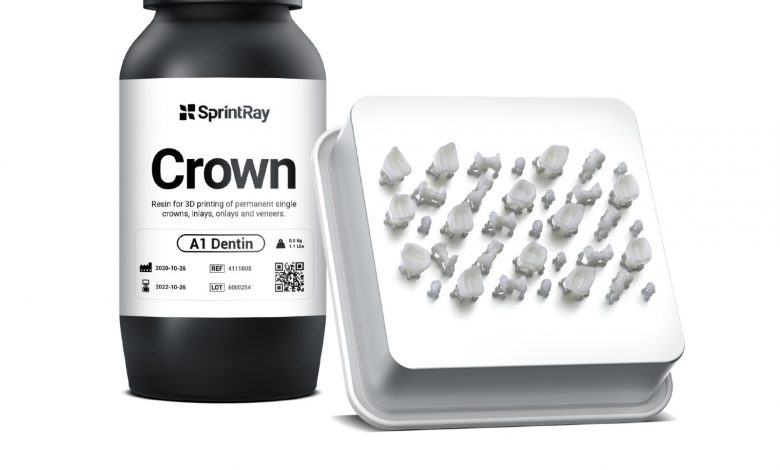 Manufacturing on Demand
Order custom parts through our online manufacturing network. Low cost, fast delivery. Upload your design for free quotes now!
SprintRay Crown by BEGO is a ceramic-filled hybrid material – well-suited for 3D printing permanent single crowns, inlays, onlays, and veneers. It delivers an excellent fit and reproducible results, enabling dental professionals to provide budget-friendly custom restorations.

"With this new material introduction, SprintRay continues to shape the future of the dental industry, widening the reach and scope of digital technology," said Sumeet Jain, Vice President of Materials at SprintRay. "By reducing the cost and lead times associated with restorative procedures, we're enhancing dentistry for patients and doctors."
The SprintRay Crown by BEGO is FDA 510(k) cleared for definitive restorations, has outstanding marginal integrity, is easy to handle and easy to polish, and is formulated for radiographic visibility.
"Dental 3D printing solutions, especially for durable restorations, are becoming increasingly important. In addition to the excellent material properties and good aesthetics, are the low material costs, the speed in production, and the customizability of the dental objects," said Thomas Kwiedor, Head of 3D Printing Business Development for BEGO. "The expansion of the partnership with SprintRay and the introduction of SprintRay Crown will further accelerate this trend."
* This article is reprinted from 3D Printing Media Network. If you are involved in infringement, please contact us to delete it.
Author: Edward Wakefield