Formula One team McLaren Racing is responding to the FIA's tighter vehicle production time and budget limits by 3D printing tens of thousands of parts with the large Neo 800 stereolithography 3D printers from Stratasys.
McLaren is winning the "race before the race" by producing up to 9,000 parts per year across numerous front and rear wing programs, as well as large parts of the side bodywork and top-body. The race team reports big strides in optimizing vehicle aerodynamics during wind tunnel testing thanks to the supreme accuracy of the parts printed on its five Neo800 systems. Beyond the qualitative aspect, part production time has also been dramatically reduced, with the team now able to produce certain large parts like scale model top-bodies in as little as three days.
McLaren and Stratasys together
It's also less expensive. With the sport facing uncertain times and no income coming in during Covid, the FIA decided to bring the budget cap down from $175 million to $145 million for its first year of operation in 2021, then down to $140 million for 2022 and $135 million in 2023.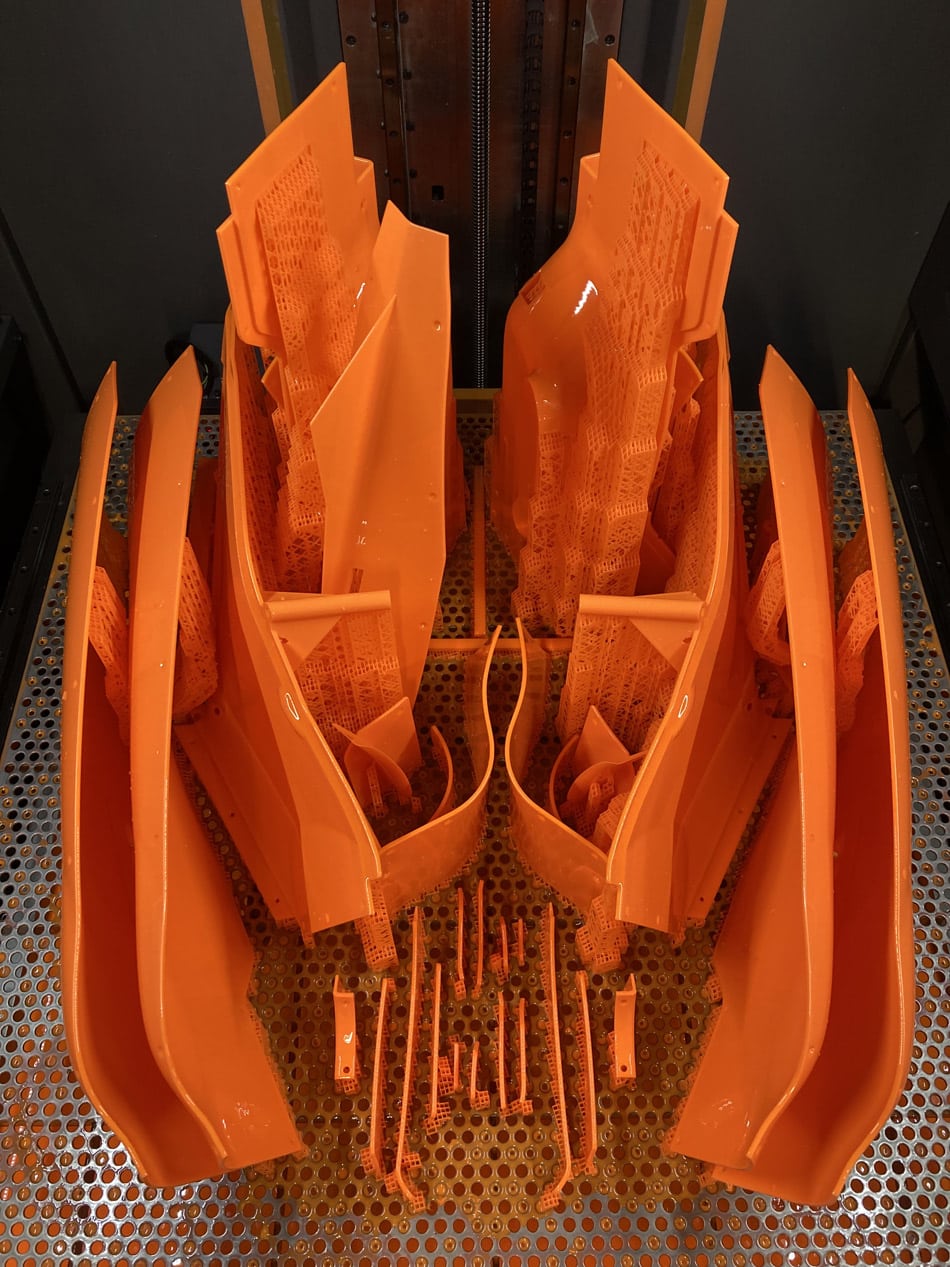 Using Stratasys' stereolithography 3D printing technology can help reduce lead times on aerodynamic wind tunnel components and projects, says McLaren
Using the fleet of in-house printers, which resulted from McLaren's long-standing collaboration with Stratasys, enables McLaren to manufacture all aerodynamic parts at its base in Woking, UK, which saves costs on subcontractors and the associated quality assurance QA process. The team can also 3D print jigs and templates, and small molds that would have previously been machined from metal billets. Not only does the speed of the Neo800 stereolithography process save considerable time, it saves on costly metal material by not wasting large amounts of swarf removed from the subtractive machining process.
In the wind tunnel
"Stereolithography technology and the materials have evolved – changing the way we use it", explains Tim Chapman, Head of Additive Manufacturing at McLaren Racing. "We do not just manufacture prototypes anymore; we now produce many full-scale components and full-size tooling."
One of the primary applications where McLaren sees the most value with its next-generation Neo800s is for wind tunnel testing. The team uses 60% scale models to optimize the aerodynamic package and find more downforce – which provides more aerodynamic grip – and balance the front and rear aerodynamic loads on the car.
Manufacturing on Demand
Have design to produce? Get professional manufacturing suggestion for free at FacFox!
"Wind tunnel testing is still the gold standard when assessing how every surface works together, either as an assembly or as a complete car," explains Chapman. "Our Neo series of 3D printers have helped us to dramatically reduce the lead times of our aerodynamic wind tunnel components and projects."
The team prints parts using the Somos PerFORM Reflect resin material, which was specifically developed for wind tunnel models. It creates strong, stiff parts that take 30% less time to post process.
Neo and Somos
Chapman continues: "We find the high-definition components from our Neo machines require minimal hand finishing, which allows much faster throughput to the wind tunnel. In addition to speed, we can now produce wind tunnel parts with supreme accuracy, detail and surface finish, which has enabled our team to enhance testing and find innovative new ideas to improve performance. I cannot overstate how important these benefits are in Formula One, with super tight deadlines to deliver cars to the next race, and where the smallest design iteration can make all the difference between winning, losing or making up positions on the grid."
The large bed size of the Stratasys Neo800 3D printers (800 x 800 x 600 mm) allows for either large single parts or a multitude of much smaller ones. The process means intricate details are always preserved with industry-leading repeatability and reliability.
This is exemplified by McLaren, where around 50 or 60 air pressure housings are embedded within its race cars to enable air pressure readings across various surfaces. The small pressure tapping running through these components are highly intricate and detailed and sit within the car throughout testing and races to allow engineers to monitor and optimize aerodynamic performance continuously.
Andy Langfeld, President EMEA, Stratasys says: "Transformative value in 3D printing comes from being able to quickly customize and tailor parts for specific applications. In this case, McLaren has been able to dramatically shorten product development time and control costs with next-gen stereolithography technology from Stratasys that is combined with world-class Somos materials and our deep racing expertise. It's a great partnership between two world-class organizations."
You might also like:

PUNCH Torino and Roboze enter AM partnership: The goal of the two partners will be to increase the adoption of additive technology and improve the printing process with Fused Filament Fabrication (FFF) technology – making it increasingly competitive and sustainable when compared to conventional technologies. This will enable the development of even more competitive and high-performing products in the near future, with a substantial impact on lead times.
* This article is reprinted from 3D Printing Media Network. If you are involved in infringement, please contact us to delete it.
Author: 3D Printing Media Network