At FacFox, we have 2 creative ways to quote your parts:
Insta3DP
and
Manual Review
With insta3DP you can see instant pricing with most of the 3D printing materials(some of which are not available for instant pricing due to calculation complexity).
With the manual review, you can get professional reports and suggestions for your request.
In conclusion, for simple 3D printing requests, insta3DP is the best option, if you have a complex project with other methods involved, the manual review will surely help you a lot.
To ensure you get an accurate quote with best solution with the manual review, we need information from you to make sure they produce exactly the parts you expect in a satisfying way. Here are 6 things to prepare before you click "Submit" button:
1. Product Design Drawings
Ideally, both 2D and 3D technical drawings(3D model) are needed to produce the exact size and shape of your finished part. Especially in CNC machining and injection molding check on how to get a 3D model.
The 2D drawings specify the exact dimensions and tolerances of all features. This is also where you can note the surface texture, color and other important part information. The 3D CAD files are required for setting up G-code for CNC machining. Even for projects that don't require CNC machining, such as urethane casting, it's useful to have a 3D CAD file for estimating raw material consumption and part weight.
At FacFox, 2D drawings are best prepared in .pdf/.dwg/.dxf format, while 3D CAD files are preferred in .stl/.igs/.step formats.
Here's a snapshot of how you should upload the drawings for manual review: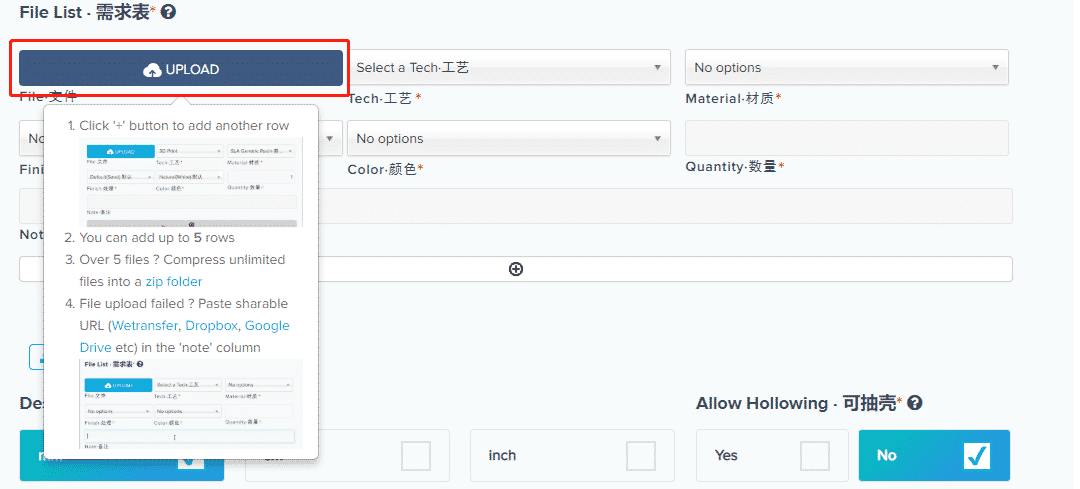 2. Process
At FacFox, we have various processes from 3D Printing, CNC Machining, Urethane Casting, Plastic Injection Molding, Metal Injection Molding… Your parts can be produced more than only one way, that's why our core value is to evaluate the project and provide the best solution.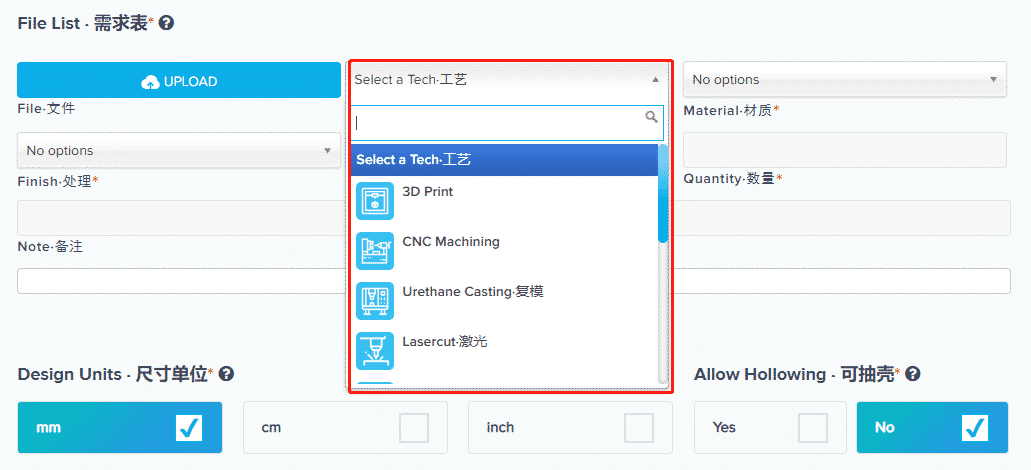 3. Material
Many types of metal and plastic are available to make rapid prototypes and production parts. They each have unique mechanical and physical properties to help you achieve the performance you're looking for. It's important that you tell us the material you want to work with so that we can provide a precise quotation not only for the raw material but also to account for the related processing costs using that material. If you're unsure what you need read more about the 3D Printing materials and other materials or talk to our team about the options available.