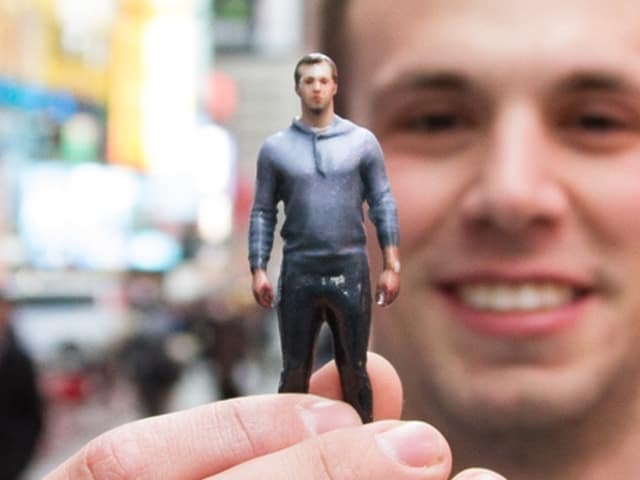 Photo-based 3D Modeling Software
3D modeling from photos is one of the main research directions in computer graphics and computer vision, and is called Image-based Modeling. This technology has gradually matured and moved to the practical stage.
Currently, there is software on the market that requires users to take a few photos from different perspectives on the real object with a common camera or mobile phone, then the software can automatically generate corresponding 3D models based on these photos.
This picture-based modeling technology provides tools for non-professional modelers to build 3D models.
Autodesk recently released a set of modeling software Autodesk 123D. Users don't need to be an expert. As long as they take a few photos of objects from different perspectives, the software can automatically generate 3D models for them, and the software It's completely FREE.

Autodesk 123D Design
It is a free 3D CAD tool, users can use some simple graphics to design, create, edit 3D models, or modify an existing model.
Autodesk 123D Catch
It is focusing on modeling. Users use cameras or mobile phones to capture objects, people or scenes from different angles, and then upload them to the cloud. The software uses the powerful computing power of the cloud to convert digital photos into a 3D model in a matter of minutes, and automatically bring texture information. We try it a few times and felt it is very convenient to use. However, the generated 3D geometry has only a few details, it mainly expresses reality through texture information. Sometimes the software fails and generates an incorrect file.
Autodesk 123D Make
It is used to convert 3D models into 2D cutting patterns. Users can use low-cost materials such as cardboard, wood, metal or plastic to quickly assemble these patterns into physical objects, thereby reproduce the original digital model. This allows users to "manufacture" the 3D models they create, a bit like the embryo of 3D printing.
Autodesk 123D Sculpt
Autodesk 123D Sculpt is a 3D sculpting software running on the iPad. It sculpts geometric details on the model by painting.
3DSOM Pro is a software that generates 3D modeling from high-quality photos. It can perform 3D modeling through photos of real objects, and the produced models can be presented interactively on the network.

Microsoft has developed a product PhotoSynth that can process a large number of photos in 3D, but instead of actually creating 3D models, it constructs a virtual 3D scene based on the camera parameters and spatial correspondence between photos, enabling users to view the scene from different angles and positions, and the displayed scene image is synthesized from a given photo. Just a few days ago, on February 6, 2017, Microsoft announced the closure of the PhotoSynth service.

Conclusion
Reconstructing 3D objects from multiple photos taken from different angles is technically feasible, but due to some steps of the algorithm, such as detection and matching of object feature points in the image, estimation of camera parameters, etc. some errors may also happen.
With the continuous development of technology and computing capabilities, I believe these will be gradually resolved. At that time, the technology of reconstructing 3D models from photos may be the most convenient 3D modeling technology, because everyone has a mobile phone and can take photos and upload them to the cloud to build 3D models at any time. With the support of large databases, it is also possible to build 3D models from a single photo.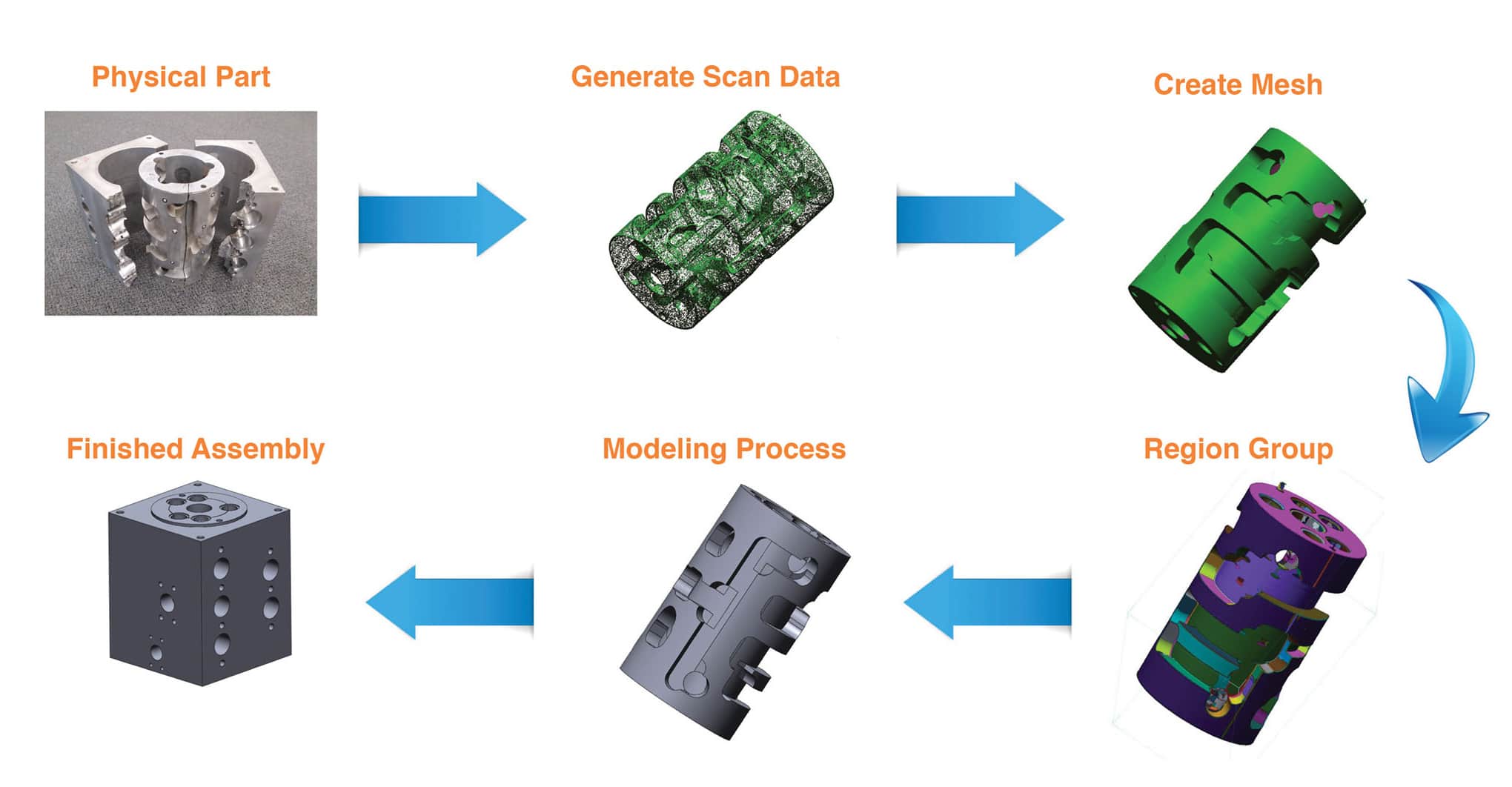 3D Modeling Software Based on Scanning (Reverse Engineering)
3D scanning is also an important source of 3D data and 3D modeling, especially with the popularity of depth cameras and the rapid decline in the price of scanners, it becomes easier for us to collect 3D data. And there is an increasing amount of software that can reconstruct 3D models from the collected 3D point clouds.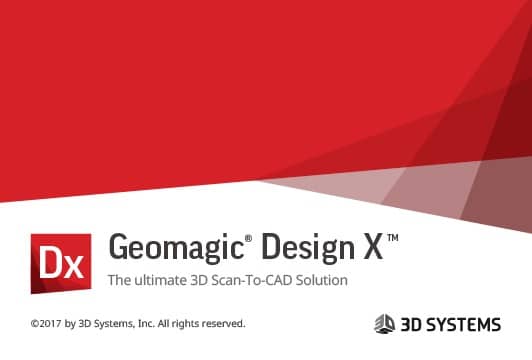 Geomagic (commonly known as "Gemagic") includes a series of software: Geomagic Studio, Geomagic Qualify, and Geomagic Piano. Among them, Geomagic Studio is a widely used reverse engineering software, which has all the following features:
Ensure perfect polygons and NURBS models.
When processing complex shapes or free-form shapes, the production efficiency is several times higher than that of traditional CAD software.
Scanning equipment and CAD / CAM software are integrated.
It can be used as a stand-alone application for rapid manufacturing or as a complement to CAD software.

RapidForm is a reverse engineering software produced by the Korean company INUS. It provides a new generation of calculation mode that can calculate point cloud data in real-time into polygonal surfaces without edges of joint, making it an optimal interface for 3D scan data. It is the default OEM software in a lot of 3D scans.

ReconstructMe developed by ProFactor is a powerful and easy-to-use 3D reconstruction software. It can use Microsoft Kinect or ASUS Xtion for real-time 3D scene scanning (Kinect Fusion is the core algorithm), and a full-color 3D scene can be completed in a few minutes.
ReconstructMeQt provides a real-time 3D reconstruction using the graphical user interface of the ReconstructMe SDK (open source).
In addition, Skanect developed by French company ManCTL is the first 3D scanning software for Mac platform. It also supports real-time 3D scanning by Asus Xtion or Microsoft Kinect.

Artec Eva, Artec Spider, and other handheld structured light 3D scanners from Artec are lightweight and easy to use, making them the first choice for scanning objects in many 3D experience museums.
At the same time, Artec has also developed software, Artec Studio, which can be used with Microsoft's Kinect or Asus's Xtion and other manufacturers' peripherals to make it a three-dimensional scanner. Kinect can complete model scanning through Artec Studio, and then post-process to fill loopholes, clean up data, perform measurements, export data, and so on.

PolyWorks is a point cloud processing software developed by Canada's InnovMetric. It provides engineering and manufacturing 3D measurement solutions, including point cloud scanning, dimensional analysis and comparison, CAD, and reverse engineering.
Conclusion
In addition to Geomagic Studio and RapidForm, the top four reverse engineering software in the world also include ImageWare and CopyCAD.