Although there are free 3D models available online, for many people, 3D printers are most attractive to each other as they can design and create completely their own models. The problem is that most modern professional CAD software is expensive. Programs such as Solidworks or Zbrush cost at least $1,000, and most beginning users are not willing to pay for it. Fortunately, some of them also have a lot of free CAD software and can provide professional-level design capabilities. Here are the best five free CAD software tools. (Some software features may require a small monthly rent.)
Hope you can enjoy 3D printing!
Blender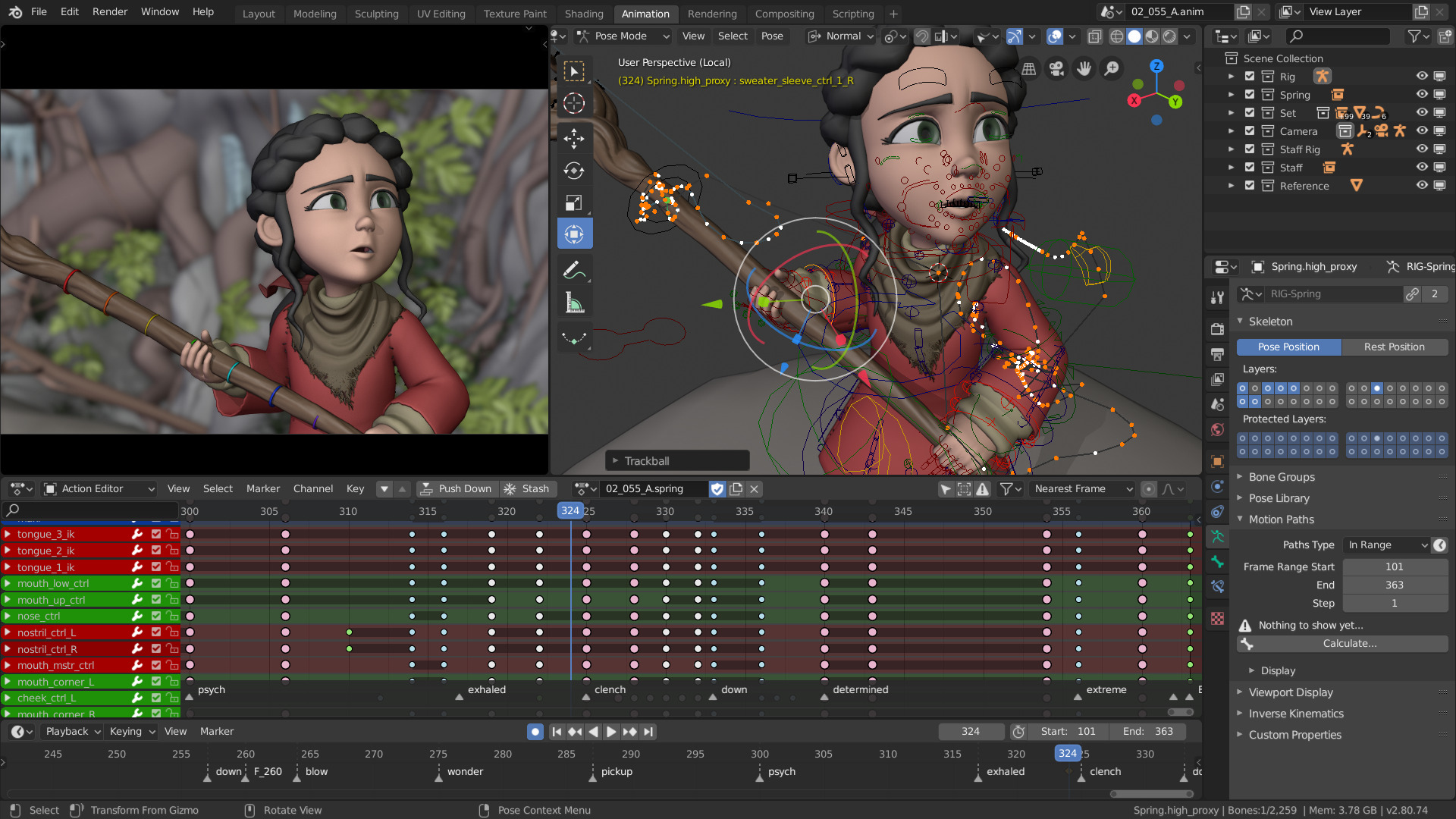 Blender also provides animation tools
Blender is a systematic and comprehensive 3D modeling suite, which provides appropriate professional-level functions and modules, and has now become synonymous with free 3D software. Blender is often referred to as The Blender Project because it is a piece of software and a complete community dedicated to creating the most complete 3D modeling and animation development solution. And this software is open source, developers provide new modules and plug-ins every day, and the software is constantly updated.
This software has relatively high user ratings and occasional repetitions, and its interface is a bit poor. This is because the community is too large and there are too many tutorials to be provided online, which sometimes leads to confusion for some users. In addition, Blender only has 3D design styling, which allows users to research and even create their own animations. Some animations created using Blender even drive Pixar's top designer blush. Overall, the Blender community is very strong and impressive.
Use Skill: 4/5
Feature Collection: 4/5
Target Users: People who need advanced 3D modeling functions and various gorgeous effects
Download: https://www.blender.org/
TinkerCAD
Wrench designed in TinkerCAD
TinkerCAD is produced by industry-standard software company AutoDesk and is a friendly primary 3D CAD software. Although he is not the most powerful software on this list, TinkerCAD also provides a lot of amazing features. He is especially suitable for first-time users, but it is also suitable for the most experienced CAD users. This software provides a series of fast and fast modeling methods. For example, if you want to make a cube, you can enter your measurement data through the cube, and then you are done.
TinkerCAD is a "what you see is what you get" tool. He has a lot of pre-design options to choose from, and users can modify them according to their needs. Although it is weak in artistic modeling, it can perform the 3D design of a quasi-system in a very simple and friendly way. Finally, TinkerCAD also has a very professional online community that allows users to see the potential of this basic, completely cloud-based 3D CAD software.
Use Skill: 1/5
Feature Collection: 2/5
Target Users: Junior CAD designers and people who want to create basic 3D models
Download: https://www.tinkercad.com/
Fusion360
Fusion360 provides progressive tutorials to make great models
AutoDesk also offers a product for students, Fusion360, which is free for educators and academic institutions. Fusion360 is much more powerful than TinkerCAD, but it is not necessarily a product that beginners can use directly, so AutoDesk provides a complete tutorial suite for those who want to specialize in and study.
Much like TinkerCAD, all files provided by Fusion360 are completely cloud-based. It allows users to save various models in a project and test them to see the stress they will experience when interacting with each other. Although there are no large suites available in the way of character modeling, there are some small features that allow users to create and fine sculpt using meshes.
In addition, this software has a large number of 3D printer integrations that can be used with the slicing software to further simplify your workflow. Fusion360 is an advanced version of TinkerCAD. For those who have mastered the basic knowledge and operation of TinkerCAD, this software is very suitable.
Use Skill: 3/5
Feature Collection: 4/5
Target Users: Users who need a higher level of customization than TinkerCAD with many engineering functions.
Download: https://www.autodesk.com/products/fusion-360/students-teachers-educators
Shape
OnShape provides multi-component assembly and mechanical test integration
As far as functionality is concerned, OnShape is the most impressive software here. It was created by two former Solidworks CEOs, Jon Hirschtick and John McEleney, and is completely free and completely cloud-based.
OnShape offers undoubtedly the most feature-rich, lightweight, and only application of free online CAD software options that allows you to view and modify designs from your tablet or smartphone. There are many similar functions mentioned in Fusion360, such as the function of simulating multi-component components.
In terms of engineering integration, OnShape is not necessarily inferior, it perfectly simplifies the entire engineering workflow from beginning to end to a completely cloud-based model. And, there are plenty of customization features that will appeal to CAD users who are familiar with other programs such as AutoCAD or Solidworks. In 2016, Onshape added a feature called feature scripting, a new open-source programming language for creating and customizing CAD capabilities. There is no doubt that OnShape is the most powerful free CAD software on the planet.
Use Skill: 4/5
Feature Collection: 5/5
Target Users: Power users who need the most features and engineering capabilities
Download Address: https://www.onshape.com/
Sculptris
Sculptris simulates and replaces dinosaurs
Sculptris can transfer engineering parts to modeling software from the author of ZBrush. This software can use virtual clay spheres for modeling. It allows push, pull, pinch and other actions to create a coherent mesh and can be 3D printed immediately. Sculptris has some slight disadvantages because sometimes you need to repair models like MakePrintable, but Sculptris's extremely user-friendly design and visual interface far exceed its disadvantages. I have almost no 3D animal modeling experience and can work very well. Make a model of a pig in a short time with very small instructions.
If you already have ZBrush, Sculptris can integrate with the software via the GoZ button, allowing you to further model your project in the ZBrush interface. As far as creating static 3D models, Sculptris is almost endless. There are a large number of Sculptris on the Internet that are very suitable for beginners in 3D modeling and are very suitable for 3D printing.
Use Skill: 2/5
Feature Collection: 3/5
Target Users: Modeler / Digital Artist / 3D Character Creator
Download: https://pixologic.com/sculptris/