PETG filament is a 3D printing material for desktop 3D printers that has been quickly gaining popularity. PETG is a polyethylene terephthalate (PET) that is glycol-modified. Before writing this review, we thought about adding the images of makes in PETG to the previous PET filament review that we published earlier. However, after trying to print in it, we realized that it was a different material that required different printing settings, and therefore it deserved a proper review and its separate photo gallery. It is known to be waterproof, but do the models come out really waterproof when printed with desktop 3D printers? Let's check where PETG filament is used together with its Pros and Cons.
PETG – Material for Anti-Splash Shields or Medical Face Shields
In its fight against COVID-19, 3D printing community came up with multiple shields/visors designs that can be printed with desktop 3D printers. This greatly helped to fill the initial vacuum until the manufacturers ramped up their production or refocused from other products in order to deliver professional PPE (personal protective equipment) for hospital stuff. And the best material for this task was PETG.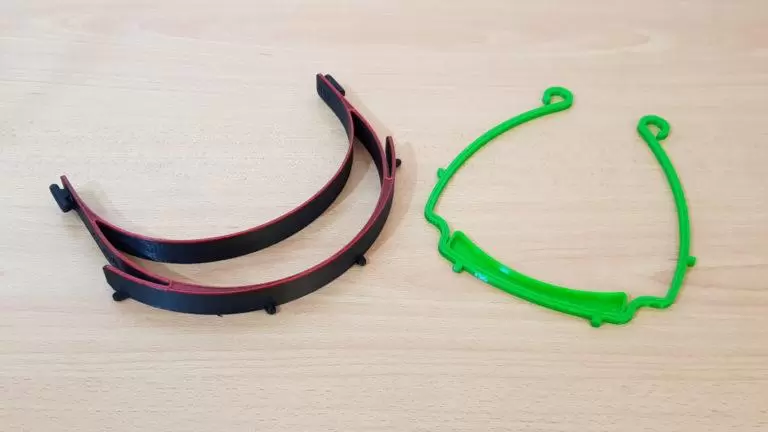 Other materials could also be used. However, PLA shields/visors were less durable and could be damaged while disinfecting. When printing in ABS, there is a poor bed adhesion to watch out for, together with possible warping. End products in ABS may also get damaged during the disinfection process. We 3D printed 2 types of anti-splash visors using Prusa Research design RC3 and Protective Visor by 3DVerkstan. Please find the links below.
In view of emergency and quicker reaction time needed, a Protective Visor model by 3DVerkstan works better as it can be 3D printed in only 1.5 hours. The plastic volume required is very small. We managed to print 2 visors using the Filament PM PETG sample we received on the TCT Show. These small shields/visors can easily fit in a disinfection bath, and should be kept there for 5 min in certain chemicals, which is thoroughly described on the Prusa Research forum.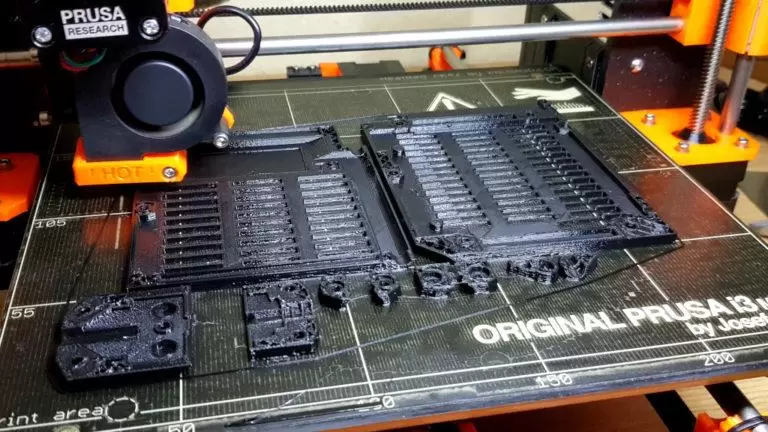 Black Prusament PETG Filament Review
We heard about PETG filament for some time, we saw it getting promoted on different 3D printing-related tradeshows, but we've never tried printing in it until we bought an upgrade for our Prusa i3 MK2. The upgrade package sent to us included a small spool of black Prusament PETG filament designated for printing our a few new parts.
Honestly speaking, we struggled to 3D print those upgrade parts using the existing G-codes (Prusa Research MK2.5 Guide G-Codes). Our old 3D print bed struggled to hold a lot of tiny plastic bits. But after a few failed attempts we managed to tune the settings "live", during the printing process, particularly greatly reducing the speed.
PETG Filament Pros
– Waterproof – if 3D printed with the right settings, objects can be used as flower water dishes
– Stronger than PLA, less brittle than PET
– Smell – doesn't produce such bad smell while printing as ABS
PETG Filament Cons
– Bed adhesion – compared to PLA generally harder to get it right from the beginning
– Stringing and oozing – may be caused by excessive retraction which will compromise the end result
– Bridging – not the best choice for bridging compared to ABS
Vase Mode and Waterproof Mode are Not the Same
Great results can be achieved when 3D printing in PETG filament in a vase mode or a single corkscrew outline mode, the same as in PET. With no retraction, no stringing and oozing will occur. Depending on the color, the final print, more likely a vase, will look neat, shiny and have some level of transparency. But we found that, when printing with a 0.4 mm nozzle, one perimeter is not enough for the vase to hold the water. The models are very fragile, and micro holes appear very easily.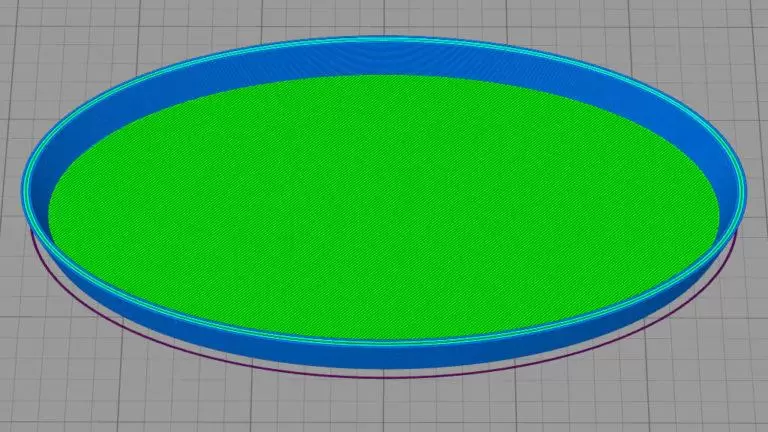 We managed to achieve waterproof results in a normal mode by carefully watching the nozzle move in the slicer software and changing the setting to reduce the number of retractions to the possible minimum. The thickness of the object's walls should be even. 0.8 mm worked well for a water dish for our planter.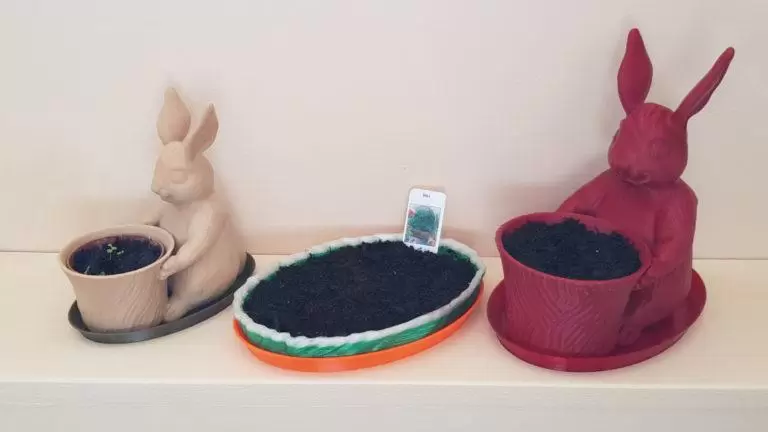 PETG 3D Printing Settings
Nozzle: 230-260°C; Bed: 80-90°C;
PETG Recycling
The most common plastic bottles are made of PET. And we see this material being widely recycled. Recycling PET and PETG together though gives a headache for recycling companies. Due to the different melting temperature requirements, PETG melts before PET and sticks in solid chips forming large clumps. This causes a problem when recycling those two materials together.
Special Note about rPETG
"r" stands for recycled. We are lucky to have a chance to test Filamentives rPETG filament. We have two filament samples: Random Mix White and Random Mix Clear. We had no problem 3D printing using recycled PETG filament. Clear and white water dishes work well and hold the water so far.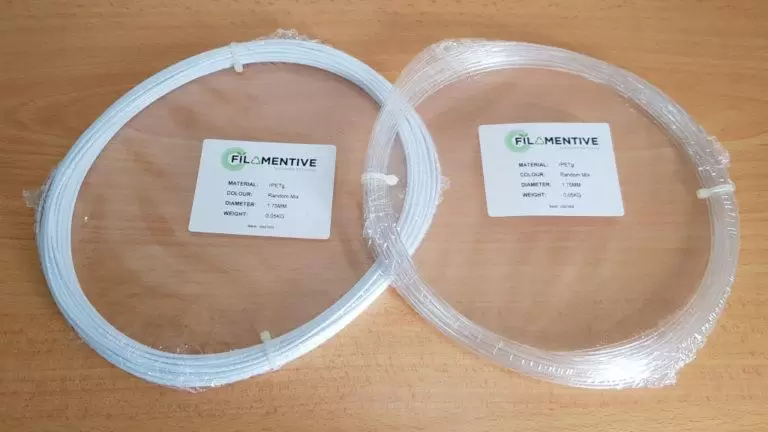 PETG Branding
When buying PETG filament beware of using none brands. We suspect that some filament manufacturers and sellers may use PETG name on their PET products purely for branding. As PET clearly loses its keyword to "animal pet" in Google rankings, try typing "PET filament" instead in the search window. At the same time, PETG has its own firm place in this keyword dependent world.
PET and PETG
We had a great experience with the Taulman Red T-Glase PETT a few years ago. Apparently, manufacturers called it PETT purely for the branding and there was no difference to the PET formula. And we can repeat here that this is a different product to PETG as it looks different and requires different printing settings. When we found out that PET and PETG were close relatives, we were surprised. The tricks of chemistry do magic indeed. Check our full Pet Filament Review – with filament flow tests and original images.
Source & Links:
Prusa Research RC3 and other face shields.
Protective Visor by 3DVerkstan
3D Printed Plant Pots and Self-Watering Planters – Waterproof 3D Printing
Pet Filament Review – Pros and Cons
Source: PETG Filament Review – Pros & Cons – Waterproof 3D Printing (3dwithus.com)