Investment casting is a manufacturing process (also known as lost wax casting) where a master pattern (traditionally made of wax) is covered with a ceramic slurry. Preheated wax is then melted out of its ceramic shell before molten metal is poured into it.
The process generally provides higher accuracy and surface finish compared to other casting processes and is often used in applications that carry low volume production and changing product designs. 3D printed molds offer greater complexity, substantial time, and cost savings when creating wax patterns for prototyping and short production runs.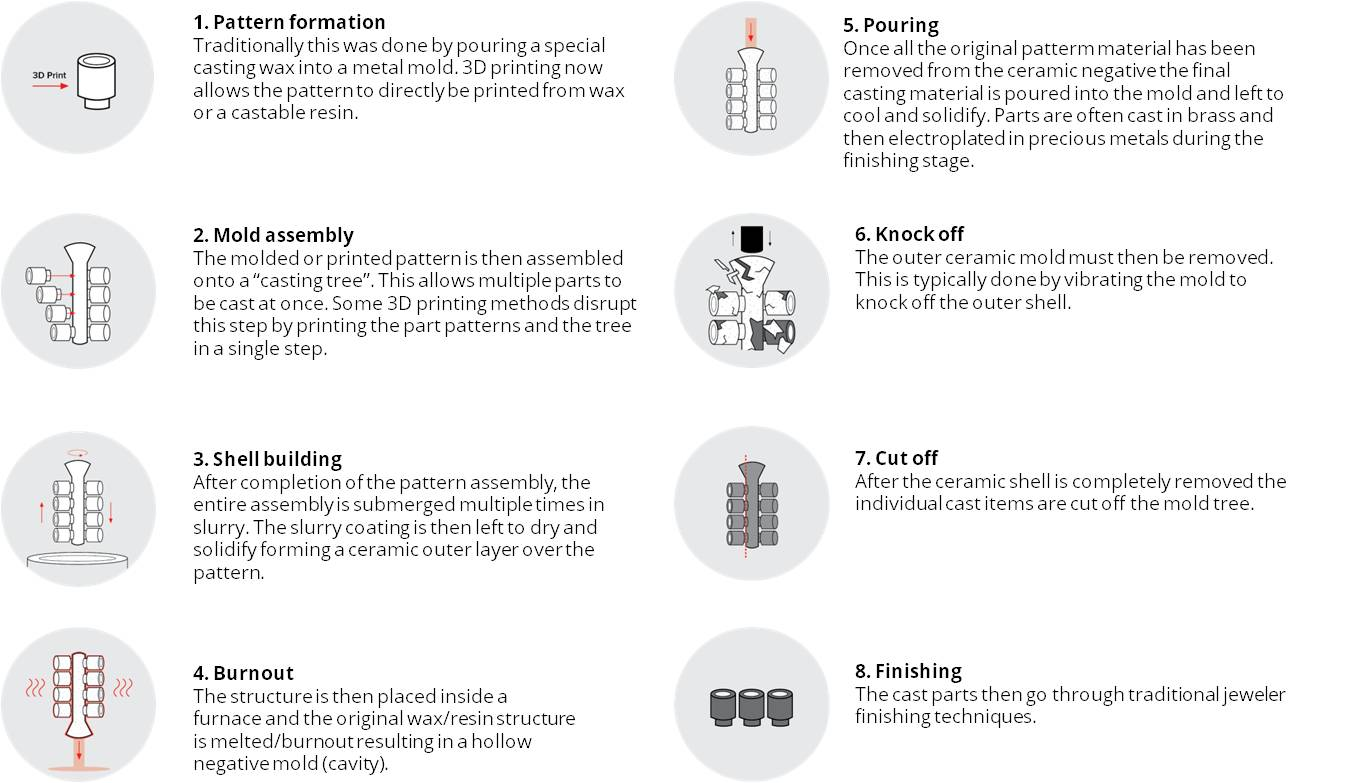 What materials FacFox can offer?
In FacFox, we offer three materials to make complex and exquisite master patterns for the investment casting process. Our SLA Clear Resin is also available for investment casting, but it's relatively rough and unprecise, and it has more ash and residue due to insufficient combustion, which is not applicable for jewelry making.
DLP Castable Resin
(Envisiontec EPIC)
Castable Wax
(3D Systems Visijet M2 CAST)
Castable Wax Ultra HD
(Solidscape Midas)
Technology
DLP
MJP
MJP
SLA
Composition
Resin
Wax
Wax
Resin
Price
$$$
$$$$
$$$$$
$$
Max Size
90 x 56 x 200 mm
298 x 185 x 203 mm
152 x 152 x 50 mm
600 x 600 x 450 mm
Min Size
2 x 2 x 2 mm
2 x 2 x 2 mm
1 x 1 x 1 mm
5 x 5 x 5 mm
Default Layer Height
0.05 mm
0.016 mm
0.016 mm
0.1 mm
Optional Layer Heights
0.032, 0.05 mm
0.016, 0.032 mm
0.016, 0.032 mm
0.1 mm
Tolerance
±0.1%
±0.1 mm
±0.1 mm
±0.3%
Heat endurance
Under 45 ℃
Under 40 ℃
Under 40 ℃
Under 50 ℃
Application
Jewelry & Precise part
Jewelry & Precise part
Jewelry & Precise part
General part
All these left three castable materials are good enough for jewelry casting, but there are also differences. Compared to castable wax-like resin, the real wax has the advantages as below:
No warping, stretching, or distortion common with photopolymer resin builds.
Complex geometries, overhangs and undercuts, flat planes, consistent wall thickness, sharp edges and fine features.
Direct investment casting in all castable materials, from precious metals to industrial alloys — the only choice for casting in platinum.
Clean, complete burnout — no ash, residue or porosity.
Ultra-accurate, high integrity castings with tight tolerances — no thermal expansion.
The best surface finish in the industry.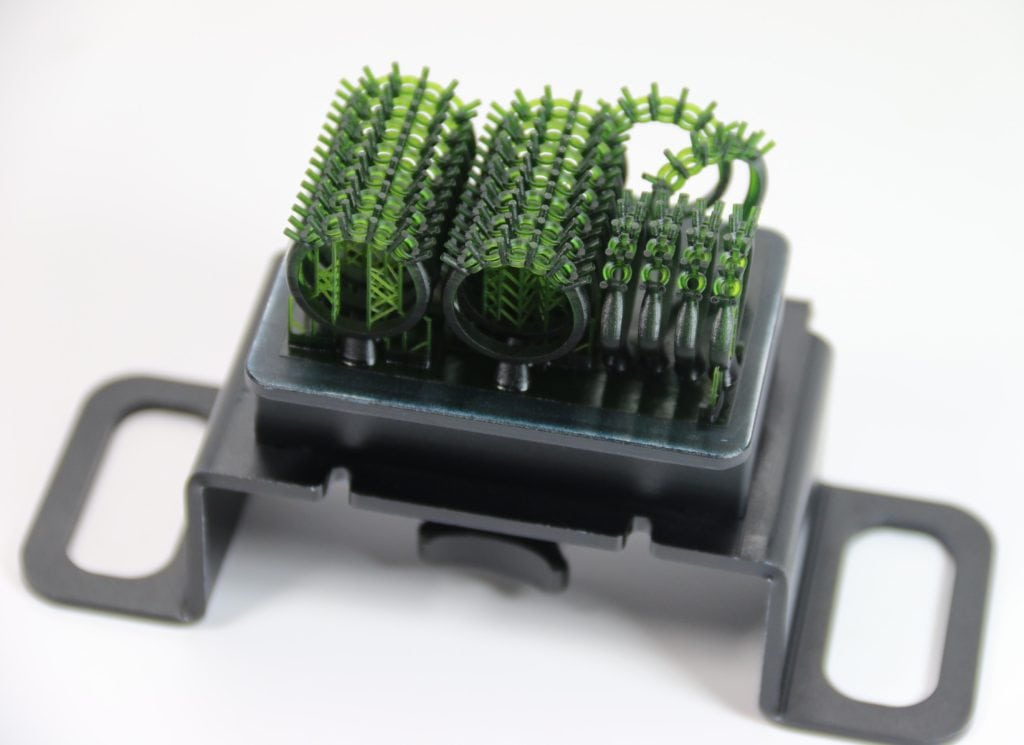 EPIC is an Exceptional Plastic Investment Casting material. It is highly recommended for special order retail and other jewelry customers who require flexibility between large and small pieces and have expert-level quality control in casting.
A low-wax 3D printing material, containing 8% liquid wax, EPIC delivers results similar to EnvisionTEC's wax-free PIC material: stiff and crisp details with outstanding surface finish.
While PIC is recommended for delicate pieces up to 5 grams finish weight, such as jewelry pieces, the additional wax gives EPIC additional flexibility up to 12 grams of finish weight. EnvisionTEC recommends casting EPIC with Ransom & Randolph's PlastiCast PT or other extra-high-strength investments.
| Physical Properties | Data |
| --- | --- |
| Viscosity | 361.7 MPa |
| Tensile Strength | 16.8 MPa |
| Elongation at Break | 7.46% |
| Flexural Strength | 23.0 MPa |
| Flexural Modulus | 404.0 MPa |
| Bending Strain | 10.2% |
| Izod Impact – Notched | 11.03 kJ/m2 |
| Density | 1.178 g/cm3 |
| Hardness (Shore D) | 69 |
| Ignition Temperature | 350°C |
| Color | Transparent Green |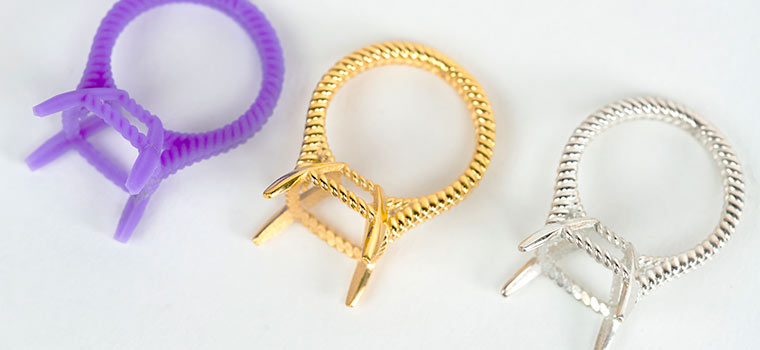 It's a durable, 100% wax for precision jewelry metal casting patterns.
VisiJet® M2 CAST is a 100% wax 3D printing material for the ProJet® MJP 2500W wax printer, delivering durable, high-quality patterns for reliable performance and results throughout existing lost-wax casting processes and equipment. Its high contrast deep purple color allows for easy fine details visualization.
Physical Properties
Data
Composition
100% Wax
Volumetric Shrinkage,
from 40 °C to RT
2%
Linear Shrinkage,
from 40 °C to RT
0.70 %
Density @ 80 °C (liquid)
0.80 g/cm³
Needle Penetration
Hardness
12
Melting Point
61-66 °C
Softening Point
40-48 °C
Ash Content
< 0.05 %
Color
Deep Purple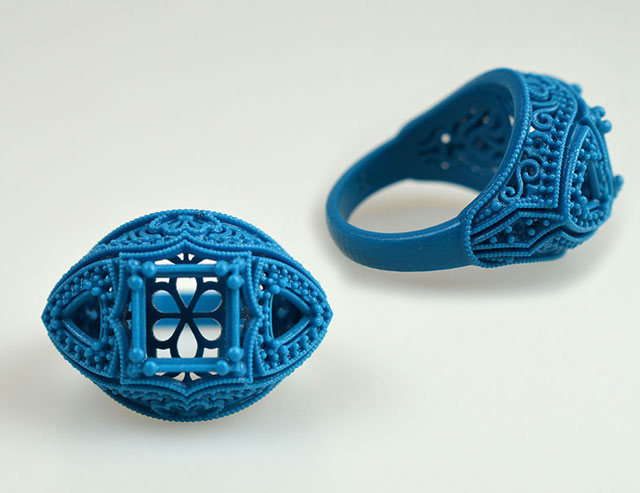 Midas is Solidscape's most durable material ever, with a 50% strength improvement over previous generations. This increased durability enables designers to incorporate even more intricate details with thinner walls into their work. As a result, they can produce lighter-weight finished products, offering savings in precious metal which in turn allows them to meet their pricing strategies. Midas also features 100% castability with no material shrinkage.
| Physical Properties | Data |
| --- | --- |
| Composition | 100% Wax |
| Flammability (solid, gas) | Non flammable |
| Relative density | ≈ 1.25 (water = 1) |
| Melting Point | 95 – 115 °C (203 – 239 °F) |
| Flash Point | > 175 °C (347 °F) |
| Odour | Faint |
| Color | Blue |
Expertise in part and jewelry casting
Each foundry and jeweler is unique, which is why we tailor the process and product for each customer's distinctive operations. We work to fit into each customer's unique operations by utilizing a successful process. We start by associating each project with lot sizes, materials, as-cast shrink compensation, surface roughness, and dimensional requirements to ensure on-time delivery of quality patterns.
Then, printing parameters are customized to each pattern's geometry and cast metal alloy. The patterns are optimized with low CTE, print time, and material usage. FacFox Direct has significant experience seamlessly bonding and assembling large SL patterns. Projects more than seven feet in diameter have been assembled with custom assembly fixtures and expertly delivered in large part packaging. We apply specific surface finishes to parts in order to work with foundry-specific face coats. Our sophisticated leak testing device checks each pattern for a perfect seal, and we offer vacuum ports and testing equipment for quality control at the foundry.
Custom Tools for Foundry Functions
FacFox offers a host of advanced manufacturing solutions for developing manufacturing tools and aids for foundry customers including hybrid wax setters, wax pattern assembly jigs, straightening fixtures, pattern and core inspection gauges, sand casting patterns, match-plates and core-boxes.
Our engineers are experts in examining a customer's unique operations and identifying areas that custom jigs, fixtures and other manufacturing aids could transform your production floor.
Even with a centuries-old manufacturing process, 3D printing can widen foundries customer base by offering compatible processes and custom tools.