OVERMOLDING
FacFox is a leader in custom plastic overmolding, a plastic injection molding process in which one thermoplastic material is molded over another material to form one part.
Using two separate plastic injection molds on the plastic injection molding press, two materials are bonded together during the plastic overmolding process to form plastic parts and components with unique visual or ergonomic appeal, such as handles or knobs.
Plastic overmolding technology is employed for a wide range of aesthetic and functional purposes in many industries and applications, such as Medical Devices, Appliances, Electronics, Consumer, Agricultural, and Automotive products and components.
A wide range of thermoplastic materials can be overmolded, including soft plastics such as urethanes and thermoplastic elastomers (TPE) and hard plastics such as nylon and polycarbonate.
Custom plastic overmolding is also used to strengthen, protect and improve a part or end product, while reducing cost, labor and materials.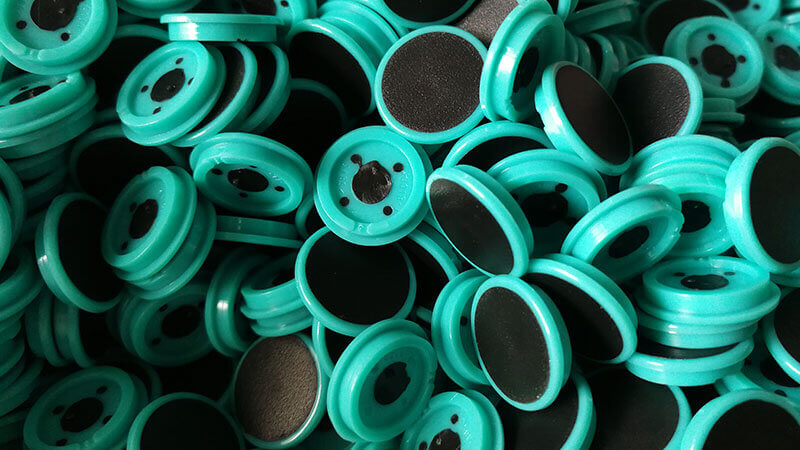 Advantages
Plastic overmolding offers numerous advantages, including:
Reduced secondary operation, assembly and labor costs (Molded as one assembly)
Eliminates bonding step in the manufacturing process (Improved component reliability)
Plastic overmolded components ensure proper alignment, prevents loosening and the plastic resin can provide improved resistance to vibration and shock
Improved part strength and structure
Enhanced design flexibility and multi-material components (Custom plastic overmolding allows for production of parts molded of multiple thermoplastic materials)
Applications
Custom overmolded plastics provide competitive advantages in a wide range of applications, including:
Medical devices and instruments
Parts with soft grip handles
Knobs for appliances, controls and assemblies
Encapsulated electronic devices and electrical components
Window reveal moldings
Proper mold design and construction and material selection are important in custom plastic overmolding to maintain part tolerances and tooling reliability. In addition, FacFox often employs robotic automation in the plastic overmolding process for fast and precise placement of inserts.
With our many years of custom plastic overmolding experience, in-house engineering, mold design and building, and focus on innovative solutions, FacFox has partnered with many customers to produce overmolded plastic parts and components that reduce labor and assembly costs, while improving the quality, reliability and integrity of the end product.
Whether reengineering existing products or developing new products, carefully engineered custom overmolded plastic parts and components can eliminate the need for a variety of secondary operations such as sonic welding, bonding, gasketing and assembly, saving time and money.
From concept to delivery, FacFox provides competitive advantage in custom injection molded plastics through early production team involvement in the design and engineering phase, design for manufacturability, project management, in-house mold building, material selection support.